« Shows & Personalities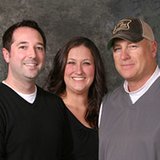 The Murphy in the Morning Show
On Air:

Weekdays, 5am - 9am

Hosts:

Katie, Murphy, Nick Vitrano, Robert Kennedy
About the Show

Fun local and topical entertainment with listener interaction and great music to get your day started!

Show Hosts

Katie

Katie hails from the suburbs of Milwaukee, a city known as West Allis. If you find yourself passing through there, please don't judge. She ventured to Green Bay to pursue a degree in Communications at UW Green Bay and is still in the process of pursuing.

If UW Green Bay is reading this and would like to give Katie an "honorary degree" I am sure she would happily accept. It was there she got her job as an intern of the Murphy in the Morning show. She is the only intern who has ever made a contract and forced Murphy to sign it promoting her to full time intern. Eventually she was upgraded to show cohost and has been for the past 8 years.

She likes to dabble in the lives of celebrities and sometimes forget she isn't actually friends with them, and yes, she is as obsessed with Justin Bieber as she portrays.

She lives in Kaukauna with her husband where they are patiently waiting their arrival of their first kid...yes a real kid.

Murphy

Murphy was born and raised in the Green Bay area and has been hosting Northeast Wisconsin's most listened to morning show for over 21 years now. Some say it because he's the only one on the staff who truly likes to wake up at 3:15 in the morning.

His true passion however, is to become a golf pro and someday walk the greens at Augusta, or maybe just run across them while being chased by security. Either way…he has goals. In the meantime, waking up, having fun and playing the hits on WIXX is what it's all about.

Nick Vitrano

Hi, I'm Nick. I am a horrible self-promoter, so I will give this my best shot in the hopes of under-promising and overdelivering.

Here we go:

I was born and raised in Wauwatosa, WI, a suburb of Milwaukee – a graduate of Wauwatosa East High School. Class of '96 in the house! I attended St. Norbert College and have been here ever since. I have an older brother and a younger sister and absolutely embody everything middle child. I'm still pretty sure my brother is the favorite son because he's on TV.

I have been blessed beyond that which I deserve with an amazing wife and a beautiful daughter. I could write countless words about each, but at the risk of embarrassing both them and myself, I'll just stick with that.

I love to travel – my wife and I have been to some incredible places (Hawaii, Mexico, San Antonio, San Diego, Sarasota, Destin) – though the NEW Zoo and day trips to Door County have replaced exotic beaches and ocean-front bars for the time being. Oh, and one note there – I'm tellin' ya, as amazing as Hawaii and Mexico and San Diego are, nothing…NOTHING beats the white sand beaches of the Gulf.

I love to read, though the sweet siren song of reality television generally lures me away from a good book. Man, that's really awful now that I read it. I'm sure my parents are beaming with pride! In the interest of coming completely clean, TV in general is my greatest vice, mostly because it is a brilliant vessel for another of my loves…eating. TV and foodstuffs, I won't steer you wrong.

I prefer to attend sporting events, but have to admit that the alternative - my own seat, my own snacks, my own bathroom, a 50-inch high definition screen with endless rewind capabilities – is by no means a punishment. Plus, it's generally better for the team if I stay away. More often than not, the car ride home is pretty quiet.

Thank you for allowing me to be a part of your day.

Robert Kennedy

It's an honor to be part of the team at Midwest Communications and WIXX. Listen for my newscasts during the Murphy in the Morning Show each Weekday Morning!

It's a place with a great heritage and one that holds its news commitment to the highest standards.

I take the responsibility of informing you very seriously and can promise the News Department will do all it can to deliver a product that's fast, fair, and most importantly accurate.

I look forward to becoming part of this great community (a process that I believe never ends) and would welcome hearing from you about issues that need to be checked out and reported on (call or email me: robert.kennedy@wixx.com).

When I'm away from work I enjoy hiking, travel, reading, sports, movies, and spending time with my family. I've worked in newsrooms around the country and settling in Green Bay means more than just a great professional opportunity.

I'm from the Midwest (Detroit, Michigan), and have a lot of family across the region. Being close to them, and getting to know you, makes my job a winner from all perspectives.