« Shows & Personalities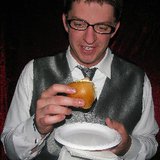 Casey Jones
On Air:

Weekends, 6pm - 11pm

Email:

Social:
Greetings! Casey Jones here. I started at WIXX as a summer intern in 2003. Following graduation the next year, they begged me to do some on-air shifts. I gladly accepted. Now you can hear me every weekend including Saturday nights when I host the All Night Party on WIXX!

Casey: What are you dieing to know about Casey Jones?

Andrea: Where did you learn to spell? (Dying)….. lol!

Casey: I actually pride myself on my spelling ability but this is just embarrassing! Thanks for pointing out my mistake. Since we're on the topic, I learned to spell at St. John the Baptist (Howard), Bay Port High School (Howard/Suamico), and UW-River Falls.

Rick: What is the tall drink of water doing full time?

Casey: When I'm not on the air at WIXX, I am working at one of my many other jobs including freelance audio/video production and graphic design.

Sara: Do people know you were part of a national TV show filmed in Kaukauna?

Casey: Ha! Most people are not aware that I have been involved in the production of several national TV shows. I have worked as a Production Assistant (PA) on ABC's Supernanny twice (Abrams & Kaukauna), The Ellen Degeneres Show, Travel Channel's Bert the Conqueror, NFL Network's Thursday Night Football, ESPN3's World Juggling Federation, Oprah Winfrey Network's The Judds, and National Geographic Channel's "Who Knew?" with Marshall Brain.

Megan: Favorite song of 2012?

Casey: Mariana's Trench "Fallout".

Cassidy: What was your first pet's name?

Casey: My family's first and only pet was a Shih Tzu named Chuwy. My parents recently had to put him down after 16 years. I miss that little guy.

Devon: Were you in the movie "Teenage Mutant Ninja Turtles"?!

Casey: Of course I was. ;-)

Cole: In what ways has Devon impacted your life?

Casey: Lol. Devon reminds me to have fun in life and on the radio. Sunday Funday anyone?