« Shows & Personalities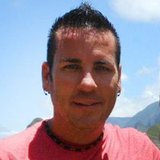 Bradley C
On Air:

Weekends
About Me (Radio Life): Born and raised in the Green Bay area. While I was in College I got a part-time job in radio. Once I graduated, I decided to stay… so here I am 18 years later!

I've always enjoyed radio, sometimes doing it part-time and sometimes doing it full-time. At the same time, I spent many years working in television. One of those jobs took me to Honolulu, Hawaii where I lived for a while. Finally I moved back to Wisconsin and ended up here. It's been a great journey and I am very glad to be part of the WIXX team.

With that being said, you might wonder… when is he on the air? Here is the simple answer. I am regularly scheduled on weekend shifts, and I "fill-in" when the WIXX full-timers need off. So you will probably hear me here, there, and everywhere in-between.

About Me (Personal Life): My wife is my absolute soul-mate! She is the best partner you could ever ask for, even though she calls me out whenever I make a mistake on air! LOL. I also do a lot of DJ work on the side, so I may very well have been the DJ for your wedding! I am an avid guitar collector and I enjoy collecting and restoring vintage arcade games.