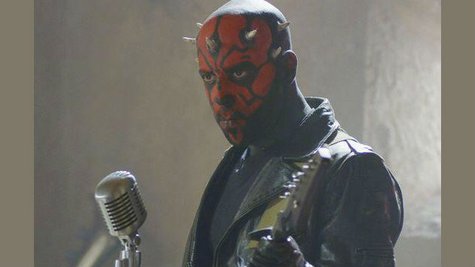 This Sunday is Star Wars Day -- May the Fourth Be with You! -- and to mark the occasion, some top musicians, including Chris Daughtry and Jordin Sparks , have teamed up with CollegeHumor.com to create a hilarious spoof video.
The concept: audition for the house band at the cantina in Mos Eisley, that wretched hive of scum and villainy from the first Star Wars film. You know, the bar where Luke and Obi-Wan Kenobi first meet Han Solo? Well, in the video, which was shot on the original movie set, the bandleader is looking for new musicians to join the group, and a variety of stars file onto the stage hoping to be chosen.
First up is Chris Daughtry, or "Chris Darth-try," who's dressed as Darth Maul, complete with red face, horns, and a double-bladed guitar. He sings a hard rock song about embracing the Dark Side: "I'll make the Jedi pay/and spread the pain across the Galaxy!" he screams. The bandleader is impressed with Chris' tough attitude, until he starts screaming and crying like a little girl when he spots a tiny sensor robot on stage and is scared out of his wits.
Next up is Ben Folds , who sings a blues song about shooting an Ewok, followed by '90s alt-rock goddess Liz Phair , who performs a protest song about how the Death Star wants to erase all life in the Galaxy. They're both rejected, and then Sugar Ray 's Mark McGrath shows up, claiming to be one of the Sand People, who get a bad rap: they're called the Sand People because "we love the beach, dude!" But when he threatens to kill every Jawa in sight, he's thrown off the stage.
Jordin Sparks is up next, singing an earnest ballad about how the "Force binds us together but keeps us apart/there's no room for love in a Jedi's heart." When the bandleader approves, she then asks for people to dial in and vote for her, just like on American Idol . "Help me voters, you're my only hope!" she says. She gets rejected.
'80s pop icon Rick Springfield appears next, calling himself Rick Forcefield, and demonstrating how he can play the guitar just by using the Force. Next up is Weird Al Yankovic , who's actually recorded several Star Wars -themed parodies in real life, but he gets rejected because all his songs are about food. '90s pop star Lisa Loeb appears as a hologram, but then has to go because she's caught up in a laser fight. The committee finally decides to go with a rapping Boba Fett, but when his jet pack is accidentally triggered, he flies out the room...so they end up going with Rick Spring, er, Forcefield.
Watch the whole thing over at CollegeHumor.com .
Copyright 2013 ABC News Radio