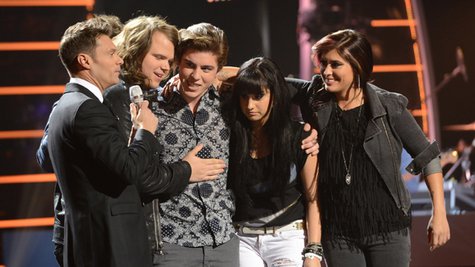 Sam Woolf ran out of chances on American Idol Thursday night.
The 18-year-old from Bradenton, Florida, who was saved by the judges on a results show early last month, was eliminated.
The announcement followed what host Ryan Seacrest described as a "game changer" for the show. He presented the five contestants with two options: the person with the fewest number of votes could go home that night -- the usual format -- or they could all remain safe until next week, when two of them would be dismissed.
Each contestant was given a secret ballot with which to cast his or her vote. In order to avoid an elimination this week, all of the contestants had to vote "yes." However, two of them -- we don't know who -- voted "no." Moments later, Sam was ousted from the competition.
Sam ended his journey on American Idol by performing the Imagine Dragons song "It's Time."
Also during the half-hour results show, judge Keith Urban performed his new single, "Good Thing."
American Idol returns next Wednesday night on Fox.
Copyright 2014 ABC News Radio