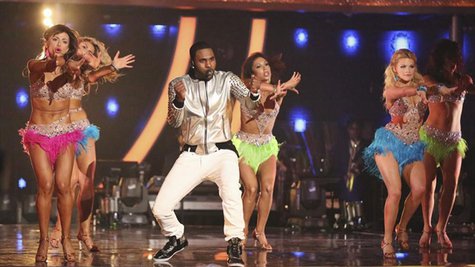 Jason Derulo 's current single "Talk Dirty" has become one of the biggest hits of his career. One reason may be that it has a unique, vaguely Middle-Eastern kind of sound that makes it stand out from the rest of the music on the radio right now, and Jason says that was exactly the idea.
"I really wanna create some stuff that didn't fit within the mold," Jason says of his current musical goals. "So when you hear 'Talk Dirty' on the radio, I mean, it sticks out like a sore thumb. And that just comes from experimentation, man. I kinda just locked myself in the studio and wasn't necessarily in tune with what was goin' on [in the music world]. I wanted to just create something new."
As for the inspiration behind the sexy tune, Jason tells ABC News Radio, "I wasn't trying to take the song too seriously. I talked about how I travel a lot in the song and how you don't necessarily have to speak the same language to you talk dirty, y'know what I'm saying? So that was the concept that I had in mind when I was writing the song, and it was a lot of fun."
If lines like "Been around the world, don't speak the language/but your booty don't need explaining" sound off-the-cuff, they were. Jason claims that he went into the recording booth and sang the lyrics off the top of his head.
"I don't write on paper at all," he tells ABC News Radio. "I just kinda go in the booth and [sing] whatever's on my mind at that physical moment."
Jason performed an energetic version of "Talk Dirty" on Monday night's season premiere of ABC's Dancing with the Stars, and he says it was totally worth it, even though he had to interrupt his European tour and fly back to the U.S. to do it.
"I had to cancel a [concert] date so I had some upset fans...but I had to do Dancing with the Stars! " he told ABC News Radio backstage. "It's one of my mother's favorite shows, and it was a lot of fun. I love dancing, I love this show, and I love what it stands for, so I was really excited to get to be a part of the opening number...that's huge!"
"Talk Dirty" is featured on Jason's new album of the same name, due out next month.
Copyright 2014 ABC News Radio