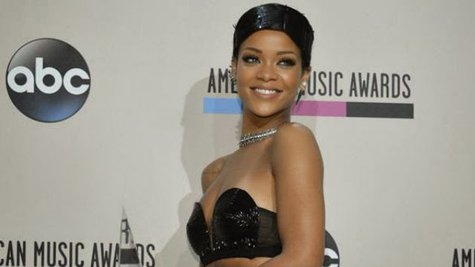 Rihanna was the talk of this year's CFDA Awards with her barely-there gown, but on Saturday night at Spike TV's Guys Choice Awards in Los Angeles the singer was dressed a little more conservatively.
The 26-year-old accepted the award for Most Desirable Woman in a sexy strapless black dress, but she didn't come close to showing as much skin as her previous outfit did.
Kevin Hart , who presented Rihanna with the award, also noticed the new look. According to E! News , he screamed to the audience, "How many men are mad that she didn't come naked?"
The 26-year-old singer accepted the award, joking to Hart, "I knew pervs like you would be here at the Guys Choice Awards." She added, "Well, I mean, thank you for voting me for this at 26 because we all know it goes downhill from here. But this is a fun award, I appreciate it. Shout out to all the real men out there."
The 2014 Guys Choice Awards air on Spike TV this Wednesday at 9 p.m. Eastern time.
Follow @ABCNewsRadio
Copyright 2014 ABC News Radio