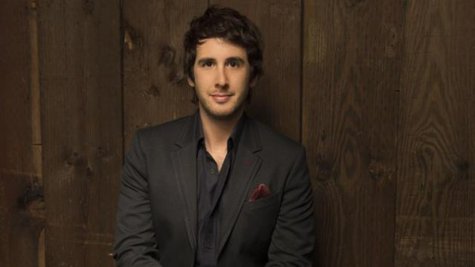 Though he's a pop star, Josh Groban has always loved Broadway, and later this month, he'll get the chance to sing Broadway classics at an arts festival in Toronto, Canada. The concept for the performance is a bit unusual, though: he and the other performers on the bill are all men, and they'll be singing Broadway love duets...to each other.
The show is called If I Loved You: Gentlemen Prefer Broadway — An Evening of Love Duets , and it's being organized by Canadian singer Rufus Wainwright for Toronto's Luminato festival. In addition to Josh, the bill also includes Boy George of Culture Club , ex- Talking Heads frontman David Byrne and actor and singer Andrew Rannells , who starred in Broadway's Book of Mormon . The show takes place June 14 in Toronto.
The prospect of singing love duets to another guy doesn't seem to faze Josh, though: as he tells the Toronto Star , "Wow! You're talking to someone who has always loved these songs to begin with and it's always exciting to be given a chance to do them." He also loves the song he and Rufus will be singing together: "If I Loved You," from Carousel , which he calls "one of my dream shows of all times," adding, "That music is so 100 per cent made for me."
The show also gives Josh the opportunity to live out what he calls his "pipe dream," noting, "Theater...is what I really wanted to do." Not long ago, Josh told ABC News Radio that the prospect of possibly starring on Broadway is one reason why he decided to move to New York.
"To go in and do some Broadway is a dream of mine, hopefully in the next couple years," he told ABC News Radio. "The Broadway community has been unbelievably supportive and open-armed, and I've been so humbled by their friendship. I would love at some point put to my money where my mouth is -- and my apartment is -- and just truly live [in New York] year-round and do a show."
Before Josh can even consider a theater project, though, he's got a 10-week commitment to TV: he's hosting the new ABC singing competition Rising Star, which debuts June 22.
Follow @ABCNewsRadio
Copyright 2014 ABC News Radio