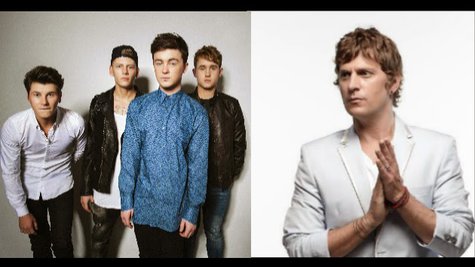 Rob Thomas has written songs for other artists before -- "Smooth" by Santana comes to mind, for example -- but his latest songwriting credit is for a tune he really had nothing to do with.
You may have noticed that "Me and My Broken Heart," by rising British band Rixton , sounds very much like Rob's solo hit "Lonely No More," and that's no accident: the band deliberately used part of Rob's song's melody.
"We've been a huge fan of his, so we took a lot of inspiration from him and wanted to give him a tip of the hat," Rixton member Jake Roche told Billboard. They didn't just give Rob a tip of the hat, though: they listed him a co-writer on the song, so he'd get royalty payments.
"They wrote that song, [then] realized it was so much like mine that they gave me credit on it...I had nothing to do with writing it," Rob tweeted in response to a fan who'd accused Rixton of ripping him off.
"So we all know, I'm great with [Rixton]. we have all stumbled on a melody that has been written," he added . "They are true gentlemen."
It also probably didn't hurt that Rixton's music is produced by hitmaking producer Benny Blanco , a friend of Rob's with whom he is currently working on his upcoming solo album.
Follow @ABCNewsRadio
Copyright 2014 ABC News Radio