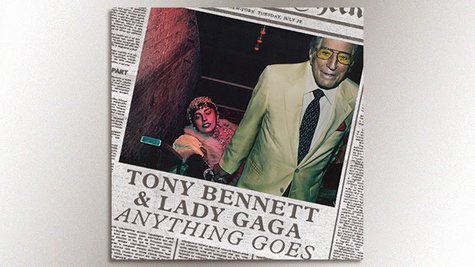 We finally know the release date for Lady Gaga and Tony Bennett 's much-discussed jazz album. The duo announced Tuesday on NBC's Today show that the album, titled Cheek to Cheek , will debut September 23.
The first single off Cheek to Cheek is a duet of Cole Porter 's "Anything Goes," from the musical of the same name. The accompanying video shows Gaga and Tony hanging out in the recording studio and elsewhere. You can watch the clip now on YouTube .
The collaborators sang each other's praises on the Today show. Tony has certainly left an impression on Gaga, literally: she now has a tattoo of a trumpet on her right arm, thanks in part to the legendary crooner. She explained, "I asked Tony to sketch a trumpet for me, and he decided to sketch Miles Davis ' trumpet -- an iconic trumpet. I decided to get a tattoo 'cause I loved it so much."
Gaga added, "It's so natural singing with Tony."
On Monday night, Gaga and Tony taped a PBS concert special, Tony Bennett & Lady Gaga: Cheek to Cheek Live , at New York City's Lincoln Center. It will premiere October 24 as part of the Great Performances series.
Gaga and Bennett first sang together a few years ago on Bennett's hit album, Duets II , and he later appeared on her ABC Thanksgiving special. Since then, the pair have performed onstage together a number of times.
Follow @ABCNewsRadio
Copyright 2014 ABC News Radio