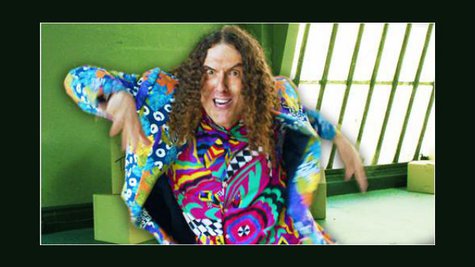 Here's how you know that Pharrell Williams ' hit "Happy" has truly entered the pop culture pantheon: "Weird Al" Yankovic has created a parody of it.
Al's version of the chart-topping hit is called "Tacky," and you can watch the video for it over at Nerdist.com . It's the first installment of Al's #8Videos8Days project, which will see him debuting clips for many of the songs from his new album Mandatory Fun , due in stores Tuesday.
The video for "Tacky" features Al and guest stars Jack Black , Eric Stonestreet , Kristen Schaal , Margaret Cho and Aisha Tyler wearing truly tacky outfits dancing at the historic Palace Theater in downtown L.A.
The lyrics to the song run down all the things that Al does that prove he's tacky: "I meet some chick, ask her this and that/Like 'Are you pregnant girl, or just really fat?'/I'm dropping names almost constantly/That's what Kanye West keeps telling me." He also sings about live-tweeting funerals and taking selfies with the deceased, using coupons while going on dates and other tacky behavior.
In a statement, Al says of the fact that Pharrell gave him permission to do the parody, "Thank you, Pharrell; I really appreciate it -- you're a cool guy."
Follow @ABCNewsRadio Copyright 2014 ABC News Radio