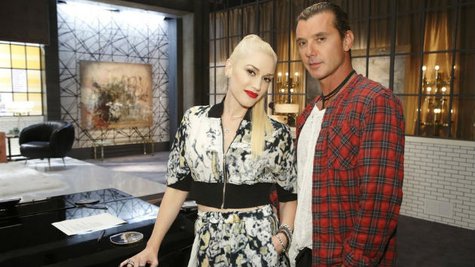 Talk about keeping things in the family: Access Hollywood reports that Gwen Stefani 's adviser for her team on the new season of The Voice will be none other than her husband, rocker Gavin Rossdale .
Explaining why Gavin is a good choice to give advice to aspiring singers, Gwen tells Access Hollywood, " He is super articulate and he has a really good opinion and he is smart and he's been doing a really good job."
She adds, "We both have, I think, a lot of experience in the sense that when you look back at all the shows and all the things we've done...and I mean, we met...touring together and doing hundreds of shows."
Talking about his approach to being a mentor, Gavin says, "The main thing, from my perspective, is just to make sure that Gwen is so good and excellent like all the other judges on the show. It's just sort of to not interrupt and to normally let her speak, let her do her thing and I'm just like a side thing."
Gwen also says her time with her fellow coaches Adam Levine and Blake Shelton has been "hilarious," adding, "Adam is like an eight-year-old boy who has never learned sportsmanship…which, I love because it reminds me of home." She and Gavin have three young sons.
"He is like so serious about this game that we are playing," she laughs. "I mean he seriously gets upset. It's crazy."
Follow @ABCNewsRadio Copyright 2014 ABC News Radio