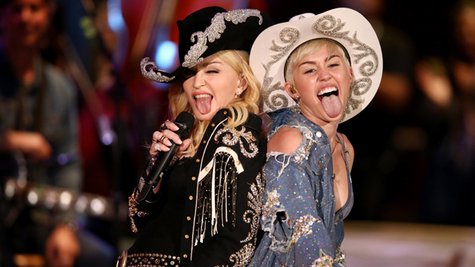 On Wednesday night, MTV aired an Unplugged special featuring Miley Cyrus . Vowing to bring Nashville to the Los Angeles studio where the show was taped Tuesday night, the wrecking ball-riding singer's performance was an at-times country remix of her hip-hop influenced album, Bangerz .
Rocking rhinestone-studded denim, cowboy hats and boots, and at times twerking against two dudes in a horse costume, Miley's stripped-down set also tapped her family's musical roots, with a cover of godmother Dolly Parton 's "Jolene." The evening also featured a sexy line-dancing mash-up of Miley's "We Can't Stop" and Madonna 's "Don't Tell Me."
And yes, Madge, wearing a cowgirl outfit, was on hand and more than game -- even letting Miley playfully spank and later grind behind her.
Miley opened wearing a blonde, '60s-style wig and a red-and-white gingham print bodysuit with white cowboy boots -- appropriate attire for Bangerz ' country-flavored "4x4." She followed that with "Do My Thang," keeping MTV censors busy given the number of f-bombs in the song in which she raps, and segued into "Get It Right."
After a costume change into the aforementioned bedazzled denim -- and a tiny matching bikini top -- Cyrus banged out "SMS" and "Adore You," before "Rooting for My Baby," which she told the intimate crowd was the most emotional song for her to sing from the album. She followed that with "Drive."
Miley then treated the audience to a hit from "my Aunt Dolly" -- Parton's "Jolene" -- which Miley previously covered in her Backyard Sessions .
After that, Miley performed "Wrecking Ball." "I've gotten to perform this song all around the world, which has been really amazing to see all my fans everywhere and sing this song and relate to this song," Miley said.
The show ended with Miley and Madonna's mash-up of Miley's "We Can't Stop" and Madonna's "Don't Tell Me."
Copyright 2014 ABC News Radio