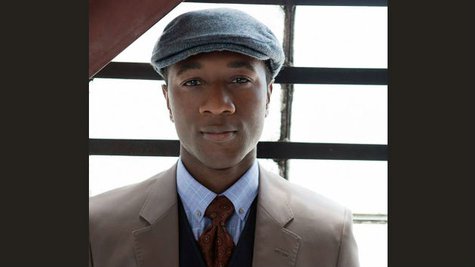 Aloe Blacc is best known as the guy who sang lead on the Avicii hit "Wake Me Up," but now he's got a hit in his own right with the song " I'm the Man ." Surprisingly, he's got both a hip-hop legend and a rock legend to thank for the song's success.
"I'm the Man" has now reached the top 20 on the Billboard Hot 100, thanks to a 19% increase in sales. The song is currently getting huge exposure because it's featured in the latest ads for Beats by Dre, rap icon Dr. Dre's line of headphones. The ads will be running through April, ensuring even more exposure for the tune.
One reason why Aloe's song is so catchy may be that it features an interpolation of Elton John' s classic hit " Your Song ." It's the part where Aloe sings, "And you can tell everybody" -- he uses the same lyrics and melody as in Elton's song, when he sings "And you can tell everybody/This is your song." Billboard notes that because Elton is credited as a writer on Aloe's song, he's now scored his first top-20 hit as a songwriter since 1998.
"I'm the Man" is featured on Aloe's major label debut album, Lift Your Spirit , which is due March 11. It's available now for pre-order on iTunes. Aloe will be touring this summer with Bruno Mars on select dates.
Copyright 2014 ABC News Radio