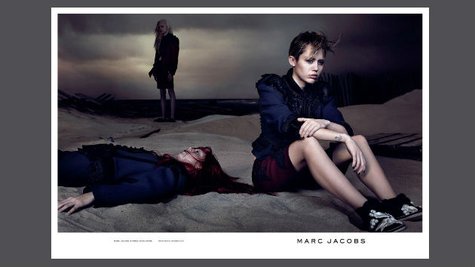 Miley Cyrus certainly sported some questionable outfits in 2013 -- when she wasn't getting naked -- and she's evidently a muse for at least one designer: she's the star of Marc Jacobs' spring 2014 campaign.
The partnership was announced via a tweet from Marc Jacobs International , saying, "Secret's out, @MileyCyrus stars in the MJ SS14 Campaign shot by David Sims!" The tweet also included a look at the ad, which shows Miley sitting on a dark, sandy beach wearing a navy jacket, burgundy shorts and black and white sneakers. She's pouting, and her hair looks darker than usual. There are two female models in the background.
Miley herself also tweeted another shot from the campaign, in which she's seen on the same dark, sandy beach, sporting huge sunglasses, a high-necked ruffled blouse, and wind-blown hair. She's also changed her Twitter profile picture to that particular shot.
Miley and Jacobs have enjoyed a long partnership: last year, she wore a Jacobs dress to the Met Gala -- ground zero for high fashion -- and she also posed nude for a t-shirt Jacobs designed for charity. On Monday, Miley tweeted a photo of herself wearing another Jacobs-designed t-shirt.
Copyright 2014 ABC News Radio