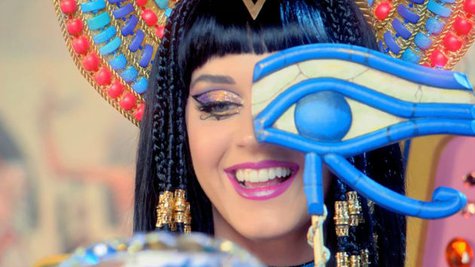 It appears Katy Perry 's video for her #1 hit "Dark Horse" has been edited in response to claims that it offended some Muslims.
As previously reported, a Change.org petition calling for the video to be pulled from YouTube had attracted tens of thousands of signatures. At issue was a brief shot that showed a man wearing a pendant representing the Arabic name for God -- Allah. In the video, set in ancient Egypt, the man is a suitor for Katy Perry's Cleopatra-like character, Katy-Patra, and presents her with a huge diamond. But after she accepts it, she conjures up lighting that zaps him into a pile of sand. The destruction of the pendant was what angered some Muslims.
Now, the "Dark Horse" video has clearly been edited -- more like digitally "scrubbed" -- to remove the image of the pendant. If you go exactly one minute and 15 seconds into the video on YouTube where the pendant had been visible, it's no longer there. The chain on which it hung is still there, but there's nothing dangling from it.
The man who started the petition, which ultimately garnered over 65,000 signatures, writes on Change.org, "Guys I'm thrilled to let you all know the name of Allah has been removed from the 'Dark Horse' video we couldn't have done it without everyone's support so I thank each and every one of you deeply, our voices have been heard! God bless you all."
So far, neither Katy nor her label have commented on the video controversy.
Copyright 2014 ABC News Radio