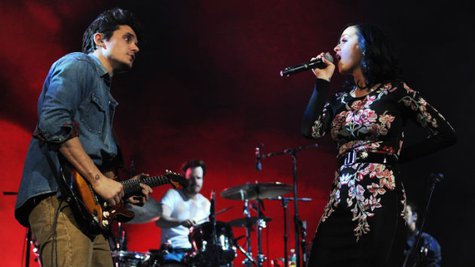 As documented in her concert film Part of Me, Katy Perry struggled -- unsuccessfully -- to maintain her marriage to her then-husband Russell Brand while she was on the road supporting her last album. Later, she said he "didn't like the atmosphere of me being the boss on tour." Now, it appears that Katy's upcoming tour to support her new album may have been the thing that has come between her and her boyfriend, John Mayer .
This week word came that the couple, who've been dating on and off since 2012, has broken up yet again, and a source tells Us Weekly that the tour may have been the catalyst. "She's stressed about the tour, they've been fighting," claims the source. "It is probably for the best, because she is going to be on tour for forever...for now they are done."
Another source says that John's own recent tour tested their relationship, dishing, "They've had rough patches, but this may be for good."
Meanwhile, a source tells E! Online that the tour "was a big issue" for the couple, and that Katy was "putting her work first." Katy's Prismatic world tour kicks off in May, and she's recently added a leg in Australia and New Zealand that will keep her on the road through November.
A moving truck was spotted outside Katy's home on Wednesday, though an Us Weekly source says it just dropped something off and left.
It could be that Katy and John are just on a break because they know they're going to be apart for so long. After all, the last time we checked, they were still following one another on Twitter, and we all know that's the ultimate modern clue to a couple's relationship.
Speaking of Twitter, Katy used it Wednesday to announce the news that she's become an aunt, and she apparently had quite a lot to do with the arrival of the baby. She tweeted , "Finally you can add 'helps delivers babies in living rooms' to my resume! It's been a miracle of a day...Auntie Katy aka Stylist Auntie." She didn't give any more details about the baby, or whether it's her brother or her sister who is now a parent. It's likely that it's her older sister Angela , who got married in 2012.
Copyright 2014 ABC News Radio