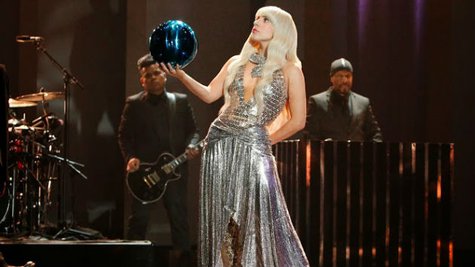 Lady Gaga has performed with many odd backdrops and props over the years, but she's just been denied the opportunity to perform in a truly bizarre setting: on top of a giant Doritos vending machine in a parking lot in Austin, Texas.
As Austin360.com reports, the Doritos vending machine idea isn't actually Gaga's: it's part of a promotion that the snack chip maker has organized for for the past two years at the South by Southwest Festival in Austin. The machine is being erected in the parking lot of an Italian restaurant in downtown Austin; last year, an all-hip-hop lineup that included L.L. Cool J performed on top of it. However, the city has denied a permit for Gaga to do the same, because they're afraid they'll be unable to control the size of the crowd she's likely to draw.
Explaining his decision, Don Pitts, manager of the City of Austin Music & Entertainment division, told Austin 360, "Our conclusion was based primarily on public safety concerns...We look at the size and capacity of the location covered by the permit being sought and how it fits with the anticipated attendance...At the end of the day, it's a parking lot."
Pitts added that if Gaga and Doritos wanted to move the performance to "an established venue with the necessary permanent infrastructure," then they could talk.
In other Gaga news, the New York Post claims that her record company, Universal Music Group, said in a report this week that the less-than-blockbuster sales of her album ARTPOP is one of the things that caused it to suffer a 9.3% drop in revenue last fall.
Copyright 2014 ABC News Radio