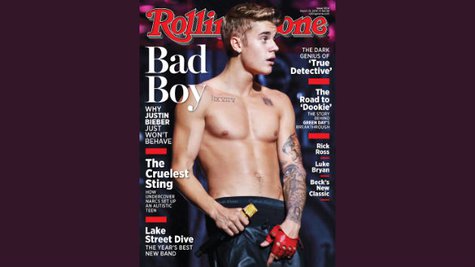 Normally, any artist would love to be on the cover of Rolling Stone , especially a teen idol who's trying to reach an older audience. Unfortunately, Justin Bieber 's appearance on the cover of the magazine's latest issue isn't exactly a positive turn of events.
"Bad Boy: Why Justin Bieber Just Won't Behave," trumpets the cover headline, next to a photo of the Bieb on stage, bare-chested and seemingly pointing to his crotch, with a dazed look on his face. The magazine also has posted several tidbits from the story, which it describes as an inside look at the "egg-throwing, hard-partying, drag-racing, arrest-resisting, brothel-patronizing, lightning-quick fall of a pop icon."
Now, none of these items will be a surprise to you if you read TMZ, but here are some of the "most shocking revelations" -- as Rolling Stone calls them -- in the article:
Two days before he was arrested for DUI, Justin smoked weed through a vaporizer, accepted multiple lap dances and spent $75,000 making it rain inside the VIP room of a Miami strip club.
Insiders blame Justin Bieber's dad Jeremy for not reigning in his son's bad behavior. A source tells Rolling Stone , "His father's not a great influence. They're almost not like father and son -- it's more like two best friends." Jeremy was present in the strip club with Justin, for example.
In 2010, Justin broke down in tears due to the pressures of fame, causing his manager Scooter Braun to warn him, "If you want the Michael Jackson career, you have to grasp that you are never going to be normal again."
After he spent the night in a Miami jail following his arrest for DUI, Justin headed to Panama with Chantal Jeffries , the woman he'd been hanging out with in Miami. Usher , Braun and Bieber's mom Pattie flew to Panama as well to have a heart-to-heart talk with Justin about his behavior, and sent Jeffries back to Miami.
After the Panama trip, Justin and his dad Jeremy flew to New York for the Super Bowl in a private plane. A leaked incident report reveals that they were verbally abusive to a flight attendant, and smoked so much weed that the pilots had to don oxygen masks to breath through the smoke.
You can read the whole sordid tale on Friday, when the new issue of Rolling Stone hits stands.
Copyright 2014 ABC News Radio