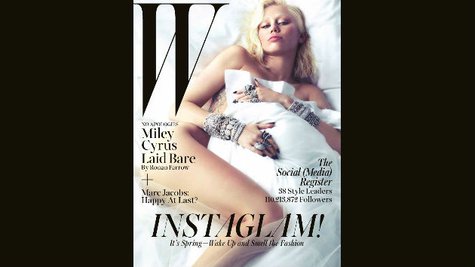 Miley Cyrus is on the cover of the latest issue of W magazine , where she's almost unrecognizable thanks to some hair and makeup tricks. Inside, she says she hasn't really dated anyone since splitting with fiance Liam Hemsworth because guys just can't seem to chill out when they're with her.
Guys "just try too hard with me," Miley tells the magazine. "And it's just like, 'I don't need you to impress me. I don't want you to, like, take me to fancy restaurants.' I hate sitting down for dinner! You don't have to do that to me! You don't have to take me on trips! I literally just want to chill here!"
Another complaint Miley has about guys? They "watch too much porn," she complains, noting, "Those girls don't exist. They're not real girls. And that's like us watching romance movies. That's girl porn, because, like, those guys do not exist."
All this has contributed to Miley focusing on her music, and not her love life, as of late. "That's why I'm, like, not trying to jump into a relationship…I love my music so much, and I love what I'm doing so much that that has become my other half, rather than another person," she explains.
Miley also opens up about a variety of topics, including her love of nudity. She says she's comfortable showing her body because she and her siblings were raised on a huge farm, running around outside all day long. "We never were inside, and we never wore shoes," she tells W . "I think it's why I like wearing no clothes so much and I'm always naked."
She also talks about feeling a kinship with female musicians who were considering rule-breakers in their day. Speaking about why she tries to be deliberately provocative, Miley explains, "I like that I'm associated with sexuality and the kind of punk-rock s**t where we just don't care. Like Madonna or Blondie or Joan Jett . Jett's the one that I still get a little shaky around. She did what I did in such a crazier way. I mean, girls then weren't supposed to wear leather pants and, like, f**king rock out. And she did."
Of course, Miley's provocative image may make her less appealing to the very young kids who used to make up her fanbase. But the singer says in general, she finds them annoying. "I don't love kids," she tells W. "I don't love them because, I mean, I think I was around too many kids at one point, because I was around a lot of kids. They're so f**king mean."
She explains, "Sometimes I hear kids with their parents, and I want to go over and, like, smack them myself... Like if they meet me, they'll [want their parents to take a picture, and] be like, 'Mom, don't you know how to use an iPhone?' I'm like, 'Dude, if I ever talked to my mom like that when I was a kid, I would have had no phone, no computer, no TV, no anything.' And so, yeah, kids are just mean."
You can read the entire interview now over at WMagazine.com ; it's on newsstands on February 8.
Copyright 2014 ABC News Radio