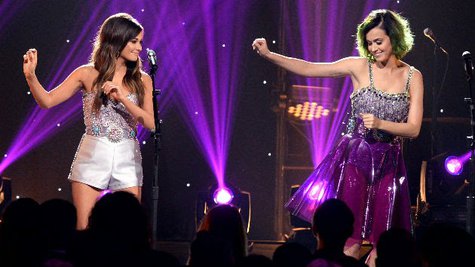 During downtime on her Prismatic tour, Katy Perry has been enjoying the local attractions in the cities she visits, such as water parks and amusement parks. On Thursday night, she and her opening act, Kacey Musgraves , went retro, strapping on roller skates and hitting the rink in Burnsville, Minnesota to celebrate Kacey's 26th birthda y.
Katy and Kacey documented their time at the rink on Twitter and Instagram . Kacey posted a photo of herself wearing a party hat; she's with Katy, who's wearing huge light-up eyeglasses. " Gettin' our 8th grade on.. ," she captioned the photo.
Kacey also posted a photo captioned "birthday shopping list" detailing what she and Katy needed for the roller party: knee pads, tube socks, glow sticks, fake lashes, and Champagne.
Katy posted a video of herself in an empty rink, wearing her light-up glasses and big heart-shaped earrings. Disco lights flash while "I Will Always Love You" plays in the background, and Katy stares love-struck into the camera. The perspective then changes to reveal Katy is dancing with a balloon that looks like a green alien.
Katy, along with Kacey, are set to perform at the Target Center in Minneapolis, MN Friday night.
Follow --ABCNewsRadio
Copyright 2014 ABC News Radio