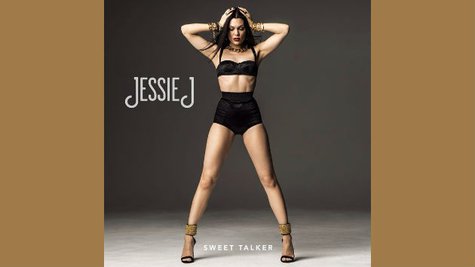 As she prepares to open this Sunday's MTV VMAs with her Ariana Grande / Nicki Minaj collabo "Bang Bang," Jessie J has now revealed details of her long-awaited new album.
The disc is called Sweet Talker and she writes on Facebook that it'll be out on October 14 in the U.S. The cover shows Jessie wearing a black bra, high-waisted black panties, high heels and lots of gold jewelry; she's got her hands on her head and her eyes are closed.
This is technically her third album; her second one, Alive, never came out in the U.S.
Meanwhile, behind-the-scenes footage from the making of the "Bang Bang" video is now available on YouTube . It shows the video being filmed on a city street on a hot summer day, with women dancing on fire escapes. Jessie shows up and leads a group of women through the city, where they encounter Ariana in a loft. Nicki then arrives in a helicopter, and all three women "rage through the night," according to the director.
The "Bang Bang" video will premiere online right after the three women perform the song Sunday night on the VMAs.
Follow --ABCNewsRadio
Copyright 2014 ABC News Radio