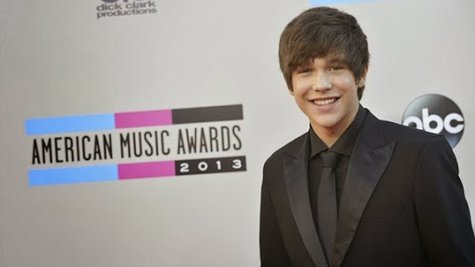 Austin Mahone is encouraging new drivers like himself to take extra special safety precautions on the road.
Austin has partnered with the Allstate Foundation for the company's #GetThereSafe Challenge. Austin is encouraging fans to upload photos of themselves after they reach their destinations with the hastags #slowdown, #seatbelt and #nodistractions via the free #GetThereSafe app. Of course, drivers should do this after getting out of the car, and not while operating a vehicle.
"I'm fairly new on the road and I wanted to tell teens that it's cool to not be on your phone when you're driving because it is very dangerous," Austin told Billboard . "I know how it is, always wanting to be on Instagram and Twitter, and the car is just not the place for it, because it's the number one killer of teens in America. I just wanted to send that message to all the teens out there to let them know that it's cool to wait until you get where you're going."

To sweeten the deal, each uploaded photo is entered in a contest. One randomly drawn participant will get a meet-and-greet at their school with Austin in the fall. Enter at www.teensgettheresafe.com through Friday at 11:59 p.m. PT.
In other Austin news, the singer is up for five Teen Choice Awards this weekend.
Follow @ABCNewsRadio
Copyright 2014 ABC News Radio