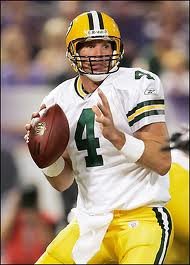 GREEN BAY, WI (WTAQ) - A news conference Monday afternoon at Lambeau Field will disclose the election of Brett Favre into the Green Bay Packers Hall of Fame.
Team president Mark Murphy, former president Bob Harlan, along with Hall of Fame president Perry Kidder, will be joined via telephone by Favre at the 1:30 p.m. media event at the under construction renovation of the Hall at the stadium.
Favre will be inducted into the hall in July of 2015 after leading the Packers to a Super Bowl title and earning 3 most valuable player awards during his 16 year Packers career.
Favre joined the team in a trade from the Atlanta Falcons just after Ron Wolf became General Manager and hired Mike Holmgren as head coach. Within five years, the team won Super Bowl XXXI over the New England Patriots.
Favre re-wrote the Packers record book and holds virtually every significant NFL passing record. He announced his retirement after the 2007 season but when he changed his mind and wanted to return to the Packers, the team had already moved on to Aaron Rodgers.
Favre was traded to the New York Jets where he spent the 2008 season before moving to the Minnesota Vikings as a free agent for the final two years of his career.
It's not know if the Packers plan to retire Favre's number 4 jersey at the time of his induction or if another ceremony will take place before he enters the Packers Hall next July.