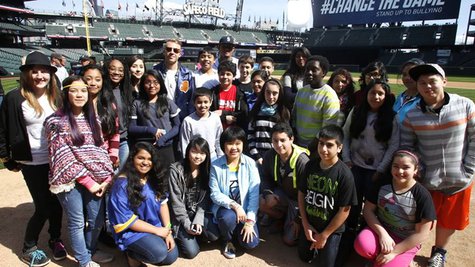 Macklemore surprised middle school students at Seattle's Safeco Field on Thursday, as they recorded an anti-bullying PSA that will air in Washington state.
According to MLB.com , Macklemore and Seattle Mariners superstar Felix Hernandez hid while the kids from Highland Middle School in nearby Bellevue worked on a PSA for the "Change the Game" campaign with the baseball team's mascot, Mariner Moose. After the moose messed up two takes, Felix and Macklemore popped out of a dugout.
Macklemore, a Seattle native, is also collaborating with the Mariners on a contest. Students can take an anti-bullying pledge through the team's website, for a chance to meet the rapper, as well as Felix, before the Mariners game on June 12. Details are available at Mariners.com/ChangeTheGame .
Fans who attend that game will receive a Macklemore bobblehead.
Copyright 2014 ABC News Radio