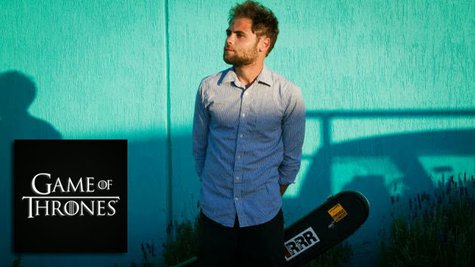 Passenger may be the sensitive singer/songwriter who croons the heartbroken hit "Let Her Go," but he's also a Game of Thrones geek. In fact, the British singer says his life's been empty since the show's been away, and he can't wait for it to return this Sunday night on HBO for season four.
"So excited! My life's been a void, like, just a black hole of misery since season three finished," he tells ABC News Radio. "I just need to get some dragons up in my life again!"
In fact, Passenger, born Mike Rosenberg , says he got so down in the dumps when he was deprived of his Game of Thrones fix that he actually went and read all five of the extremely long books on which the series is based.
"I watched the first two seasons, and then I was so depressed that there wasn't any more on telly that yeah, I got into the books as well," he tells ABC News Radio. "They're phenomenal...I love it. And it's not often TV can really capture what you read in the books as well. And I think it's just brilliant."
In fact, Mike is so into the show that he says he'd love to make a low-key guest appearance, like Coldplay 's drummer Will Champion and Snow Patrol 's Gary Lightbody have done in the past.
"I'd be so down with that!" he says, adding, "In my mind, it would start with that. It would be like, 'Yeah, come and do a scene where you be an extra.' And we get on [well], and one thing would lead to another and then like, it turns out in season five, I'm a bit of a main character!"
While he's waiting for HBO to call him, Passenger's just released a brand-new single, "Scare Away the Dark." It's from his upcoming album, Whispers, due out in June.
Copyright 2014 ABC News Radio