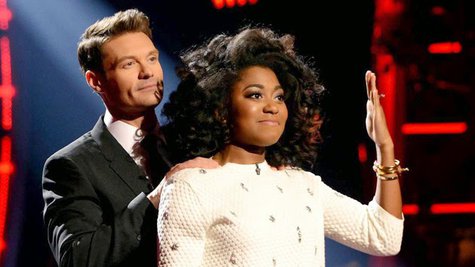 American Idol continues Wednesday night as the remaining contestants sing their original audition songs, this time on the big Idol stage. But for viewers and judges alike, it seems like it's been a struggle for this year's hopefuls to translate those magical audition moments into commanding performances over the past few weeks. Majesty Rose , an early frontrunner who was eliminated last week, says she thinks she might know why.
According to Majesty, many of this year's contestants -- such as herself -- simply don't have a lot of performing experience, while those who do, like Jessica Meuse or Alex Preston , only ever performed on a small scale. "It's a different thing," Majesty tells ABC News Radio. "For Jess, she played at smoky bars...it's a very crowded environment where people are doing their own thing. And so it's not like she's commanding attention all of the time. Same thing for Alex...he played at small places."
"It is something to get used to, to just really open yourself up to millions of people!" adds Majesty.
One contestant who doesn't have any issues with this, however, is Caleb Johnson . So why is he able to deliver solid performances every week? "I think Caleb is just kind of like that. Like, he, has this 'I don't care' attitude, so that probably helps him a lot," Majesty laughs.
The preschool teacher, who sang "Happy" for her "save me" song last week, agrees with fellow eliminated singer MK Nobilette that judge Harry Connick Jr. isn't being too hard on the contestants as some have claimed. Commenting on why people think he's been "Harsh Harry," Majesty tells ABC News Radio, "I guess it's 'cause he doesn't say the things he does like, but I do know that he enjoys us and he thinks that we deserve to be there."
The issue, Majesty says, is that Harry "doesn't have a lot of time to really help us grow, so he just cuts to the chase, I guess, and tells us what we can do better." Of course, Harry would have that time if he could work with the contestants during the week on their performances, like Randy Jackson is doing this season in his role as in-house mentor. Asked if she'd prefer things to be reversed, with Randy being a judge, and Harry being the mentor, Majesty tells ABC News Radio, "Well, actually I think I would! That would be amazing if Harry was my mentor. I would love that!"
Asked what advice she has for the remaining female contestants -- there are only three of them left -- Majesty says, "They're all so different, so all I can say is for them to just keep being themselves. Everybody right now is very different. There is no artist that is alike on American Idol . So who knows who America is going to choose? So, they're just going to have to keep being themselves."

American Idol airs Wednesday night on Fox at 8 p.m. ET.
Copyright 2014 ABC News Radio