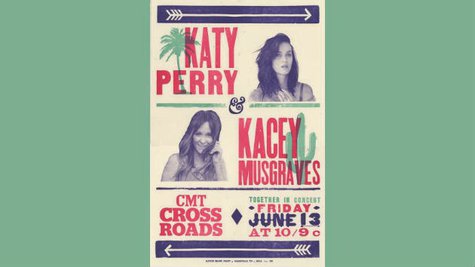 One of the opening acts for Katy Perry's upcoming Prismatic World Tour is country star Kacey Musgraves . This month, the two singers will warm up for that tour by taping an episode of CMT Crossroads, the series that pairs pop and rock stars with country stars for a concert featuring hits by both artists.
"SAVE THE DATE!," Katy tweeted . " @KaceyMusgraves & I are going to be on #CMTcrossroads June 13 sangin' each other's songs on @CMT !" Kacey tweeted the same message, adding , "Im a little bit country. She's a little bit rock and roll." She threw in the hashtag "# donnyandmariereference."
Kacey was, of course, referring to a song that singing siblings Donny & Marie Osmond used to perform on their variety show in the 1970s, called "I'm A Little Bit Country, I'm a Little Bit Rock and Roll."
The CMT Crossroads episode will air June 13 on CMT. In a statement, Katy says of Kacey, "I have been a fan and a friend of hers from the beginning, always championing her prolific songs every opportunity I get. To me, Kacey Musgraves is an artist that should be a household name because she offers a unique perspective with her writing style."
Katy added, "It's going to be a BLAST to play on each other's songs this Crossroads . It will be a preview to our Prismatic World Tour road trip this summer WHICH I CAN'T WAIT FOR!"
For her part, Kacey said, "I've been such a HUGE fan of Katy and her vision since I found out about her. And since she's found out about me she's been an amazing light and friend to me. So, joining forces with her for Crossroads is going to be incredible...her songs, while having grit, are so fun and it'll be a cool challenge to throw a little country on 'em. I love her brain and her heart and I can't wait for our two musical worlds to collide!"
The tour kicks off June 22.
Copyright 2014 ABC News Radio