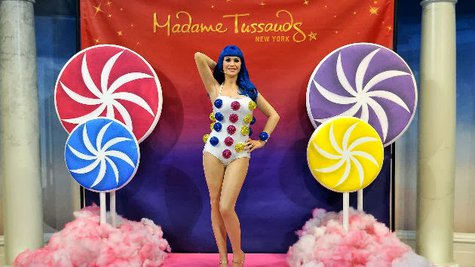 Katy Perry may have abandoned her Teenage Dream candy-fantasy look, but it's still preserved all over the world...in wax.
On Tuesday, wax figures of Katy, sporting various looks from her California Dreams tour and other appearances she made during that time, were unveiled at Madame Tussauds wax museums all over the world: New York City, Amsterdam, Sydney, Australia and Bangkok, Thailand.
In New York City, a figure of Katy sporting the button candy leotard she wore onstage during the tour went on display. In Sydney , a figure of her wearing a dress with a heart-shaped bodice and a pink tutu, also from that tour, was unveiled. In Bangkok , it was a figure of Katy wearing the carousel-inspired dress she sported at the 2008 MTV Europe Awards. And in Amsterdam , her figure is wearing another California Dreams tour outfit: a white sequined dress with red and purple lollipops over the bust.
In August, Katy told BBC Radio 1 that she plans to eventually auction off all those costumes and wigs, but she promised that her fans will still be able to see her in colorful outfits: they'll just be different. "I'm still gonna be bringing the bling...I'm still gonna be bringing the costumes and everything," she explained. "I think that you're just seeing maybe just a little bit more grown-up version of me, which does not equal boring. It just means a 28-year-old version of me."
Copyright 2013 ABC News Radio