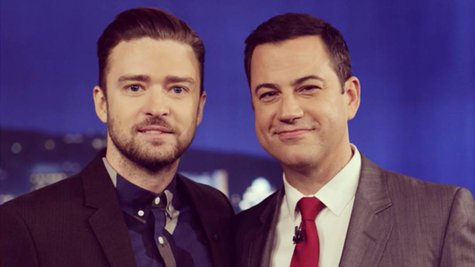 One night after Paul McCartney sat down with Jimmy Kimmel and performed outside the late-night host's Los Angeles studio, Justin Timberlake on Tuesday did the same.
Justin, who was feeling under the weather, actually interacted with the former Beatle recently, when both were in Las Vegas to perform at a festival. Justin recalled that Sir Paul startled him by knocking on his car window. JT said he mentioned to Paul that he would be performing on Kimmel's show one night after Paul would, and that he was basically "stalking" the legendary rocker. He said Paul responded, "Well...I set a precedent, don't I?" and walked away.
Justin briefly touched upon his new movie Runner Runner , which arrives in theaters October 4. He said Runner Runner co-star Ben Affleck will make a great Batman in the Man of Steel sequel, but Justin added there's "not a chance in hell" that he will play Robin.
Justin also spent some time chatting about his new album, The 20/20 Experience -- 2 of 2 , which drops September 30. He told Kimmel he considered putting out The 20/20 Experience project as a double album, but thought it would be fun to stagger it as separate releases.
When asked what makes 2 of 2 different from the first 20/20 Experience album, Justin quipped, "The first one is a little more summertime, it's a little more fun, it's a little more virginal. And the second half is just a little more slutty."
Justin later staged a concert on Hollywood Boulevard that was streamed on MySpace.com . The Jimmy Kimmel Live! broadcast featured his performances of The 20/20 Experience -- 2 of 2 singles "Take Back the Night" and "TKO."
Copyright 2013 ABC News Radio