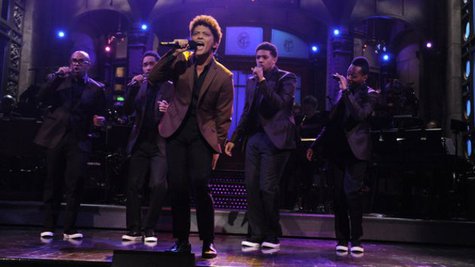 What are you doing New Year's Eve? Bruno Mars has made his plans. He and his band will take over the Chelsea, a new concert venue inside The Cosmopolitan in Las Vegas, for performances on December 29 and 31.
But that's not all: Bruno will follow that up with several more performances at the Chelsea, in what will amount to a "mini-residency." He'll perform February 15 and 16, May 23 and 24, and August 22 and 23. Tickets for all the shows will go on sale this Friday, September 27 at 10 a.m. PT via Ticketmaster.
The New Year's Eve performance will include both a concert by Bruno, and a personal countdown to midnight by him. The tickets for the New Year's Eve shows start at $150, while those for the other shows start at $95.
The CEO of The Cosmopolitan calls Bruno "a perfect fit" for the hotel, adding that he has a "natural affinity for Las Vegas and is a true performer." And Bruno himself says, "Get ready, Vegas. Me and the Hooligans are bringin' live music to The Cosmopolitan's Chelsea on New Year's Eve. It'll be our first time, but not our last."
Copyright 2013 ABC News Radio