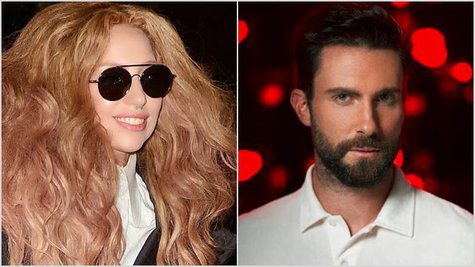 We're not sure if Adam Levine and Lady Gaga are actually in a Twitter feud, but that's what fans have been assuming for the past few days...and now it appears as though Adam's added more fuel to the fire with comments he made Tuesday morning.
It all started last Friday, when Adam tweeted , "Ugh...recycling old art for a younger generation doesn't make you an artist. It makes you an art teacher." He then added, "I unabashedly love writing and performing pop music for both myself AND everyone around me. That's It. It doesn't need any extra sauce."
While he didn't mention her by name, many people, including Gaga, it seems, interpreted Adam's comments as a slam against the comments she's been making lately about her album ARTPOP, her collaborations with fine artists, and her appropriation of fine art images, like Botticelli's famous painting of Venus, for her "Applause" video. Her response was to tweet, "uh oh guys the art police is here."
On Tuesday, Adam continued the conversation, but again, didn't mention Gaga by name. "by the way, im NOT an artist. i sing in a band and i make music with my friends," he tweeted .
He then added , "while we're at it we should call the grammar police." That's apparently a reference to Gaga writing "The art police is here," rather than "the art police are here."
Stay tuned to see if this feud gets any more vicious.
Copyright 2013 ABC News Radio