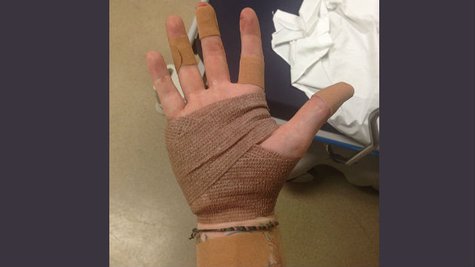 Thursday night should have been a great one for Ed Sheeran . He opened for Taylor Swift in her hometown of Nashville, as she started the last few shows of her epic RED tour, and then afterward, he sang karaoke in a bar with his buddy Gavin DeGraw . Unfortunately, the night ended with a trip to the emergency room and car trouble.
A couple of hours after he posted about singing with Gavin, Ed posted another photo captioned "Ooops." It showed his hand wrapped in bandages, with blood seeping through. He didn't mention how he sustained the apparently gruesome injury, but in his next post, he displayed his hand now expertly bandaged, both on the palm and the fingertips. "Thank you Nashville a&e," he tweeted, using the British term -- "accident and emergency" -- for what we call the emergency room.
That wasn't the last piece of bad luck for Ed on Thursday night. An hour later, he tweeted a picture of what looks like a car with a shredded tire, captioned, "And now a flat tyre. This night is epic."
Copyright 2013 ABC News Radio