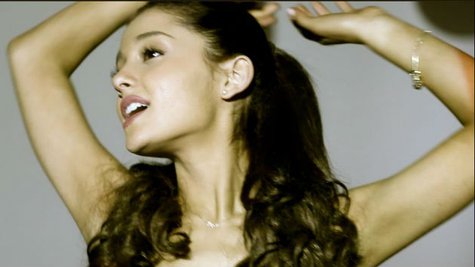 Ariana Grande performed on the MTV Video Music Awards pre-show, but of course, she watched the rest of the telecast, including Miley Cyrus ' headline-grabbing performance. So, what did she think of it? People should stop judging so harshly, she says.
"She looked like she was having the time of her life," Ariana tells Rolling Stone . "She's happy. I'm happy. We're both doing our different things. There's nothing wrong with having fun. Nothing wrong."
She adds, "I think all the people who are saying mean things about it and who are judging, need to spend less time judging other people and more time worrying about how to have as much fun as she's having in life right now."
Ariana, whose debut album Yours Truly just debuted at #1 on the Billboard chart, also tells Rolling Stone about her sophomore album, which is due early next year. "I've come up with a few, two songs already that I want on it," she reveals. "It's an album that I want to do a little bit different. I don't want it to sound like an extension of Yours Truly. I want it to sound like an evolution."
While Yours Truly features '90s-style R&B as well as touches of Motown and doo-wop, Ariana says she won't repeat that formula with the new disc. "I want to explore more sounds and experiment a little bit. I have a bunch of ideas I'm very excited about and a lot of stuff cooking," she says.
Meanwhile, Ariana has tweeted that her voice, which was injured by "screaming too much" at a party, is "better now." And she's also celebrating something else: her new puppy, Toulouse . [too LOOZ].
"Toulouse my baby!!!!!!!!!!!!!!!!! I rescued my new pup omg, I wanted him so bad & now he's mine my heart is so full right now... happy tears," she tweeted, adding a photo of the adorable pooch . "Toulouse.. Words can't describe what a joyous day this is. Welcome to the family my love."
Copyright 2013 ABC News Radio