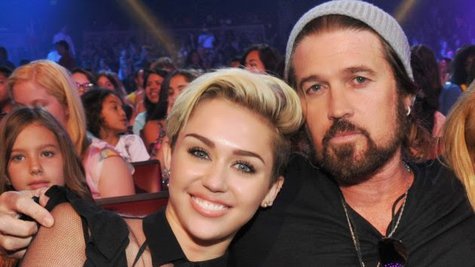 Miley Cyrus has managed to scandalize the world yet again with her " Wrecking Ball" video , in which she appears nude and suggestively licks a sledgehammer. But her father Billy Ray Cyrus isn't batting an eye at his 20-year-old daughter's antics.
Speaking with Entertainment Tonight , Billy Ray says that he prefers to focus on the music, rather than the visuals that go along with them. "I'm a song man," he explains. "I come from the old school where it starts with an artist and a song ...colliding if you will ...in a moment where the song, the singer, the producer, the band and the listener become one."
Therefore, Billy continues, "I wouldn't have mattered if Miley would have worn jeans and a flannel shirt ...a Tux ...or a nun's habit. The song's a smash ...and her performance vocally on the tune reflects her roots and sheer God given talent."
Meanwhile, we may be in for even more of Miley's unclothed body in the future. The singer has tweeted that if the views of the "Wrecking Ball" video reach 150 million, she'll release the "director's cut" -- which presumably will include lots more nekkid footage.
Copyright 2013 ABC News Radio