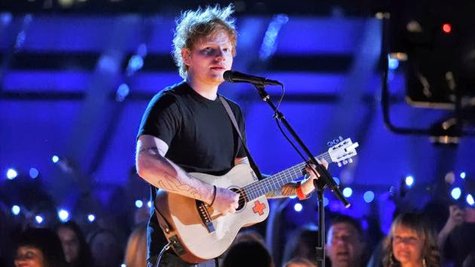 It's been months, but Ed Sheeran will finally wrap up his tour with his pal Taylor Swift on September 21 in Nashville. And while those stadium shows playing to 60,000 fans each night have been great, Ed says for him, the highlight of the tour was actually an extremely private, extremely small concert that took place...in his house.
Asked to recall the best part of the RED tour for him, Ed mentioned the shows he and Taylor did in L.A. "The L.A. shows are really cool, because I had a load of friends that were in town," he says. "So after the shows, I just had, like, a load of musicians back to my house and we'd all sit 'round with a guitar and just pass it 'round."
And who was at these special jam sessions? Ed says the gathering included Gavin DeGraw , Ellie Goulding , one of the members of Snow Patrol and, of course, Taylor came by as well. "Literally just, bunch of mates there and just passed the guitar around and all just shared songs," Ed remembers fondly. "It was really, really cool."
When the tour does wrap up, Ed will focus on putting the finishing touches on his next album, and he says he "100%" promises that fans will hear new music in January. They've been waiting a while: this week marked the two-year anniversary of the release of Ed's acclaimed debut disc, + [ plus ].
"I dunno," Ed says when asked to describe the direction of the new album. "I've got all the songs, I'm just kind of trying to work out the sound. I've been in with all different sorts of [producers]." He adds, "It's sounding great," but laughs, "It sounds better live than it does recorded, which is, ah, worrying!"
The good news is that the two shows that Ed plans to perform at New York City's Madison Square Garden in October and November won't interfere with his plans to get the album finished, he says. "I mean, it's only two shows, so it shouldn't be too stressful," he assures fans.
Copyright 2013 ABC News Radio