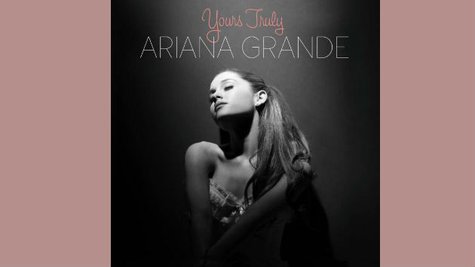 A r iana Grande 's album Yours Truly is truly a big hit. The debut from the singer/actress enters the Billboard chart at #1 this week, with first-week sales of 138,000 units, according to Nielsen Soundscan. According to Billboard , this makes Ariana the first female artist to have her debut enter the chart at #1 since 2010, when Ke$ha did it with Animal.
Ariana is the second artist managed by Scooter Braun to score a #1 album: the first, of course, was Justin Bieber , who's got five of them. Ariana and Justin are friends, and Justin told all his Twitter followers to go purchase Ariana's album when it came out last week. Looks like it worked.
"The Way," the first single from Ariana's album, reached the top 10 on the Billboard Hot 100 and has since gone double platinum. The next single is "Right There," featuring Big Sean.
Elsewhere on the album chart, Imagine Dragons ' disc Night Visions has re-entered the top 10. It's now spent over a year on the chart, selling 1.4 million copies. According to Yahoo! Chart Watch , the group's big hit, "Radioactive," is close to snatching the title of "best-selling rock song in digital history" from Journey's "Don't Stop Believin'."
And speaking of albums that have been on the chart for a long time, Adele's album 21 has just racked up its 133rd week on the Billboard Top 200. This year alone, it's sold 500,000 copies. Most discs never sell that many, period.
Copyright 2013 ABC News Radio