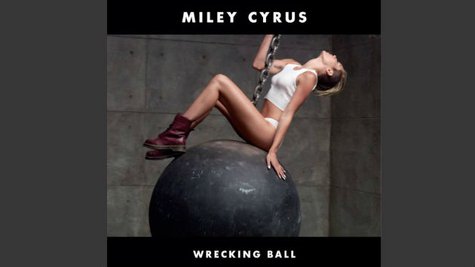 When One Direction released their video for "Best Song Ever," they broke the record, previously held by Miley Cyrus' "We Can't Stop," for most views on Vevo in a 24-hour period. Now, Miley's taken the record back with her new clip for "Wrecking Ball."
In the first 24 hours after it debuted on VEVO, the 1D clip racked up 10.9 million views, beating "We Can't Stop's" record of 10.7 million views. Then Miley's official Twitter announced that "Wrecking Ball" has easily beaten that record -- 15 minutes before the 24-hour mark, it had scored over 18 million views . When all was said and done, the final tally stood at 19.3 million views in 24 hours. When we last checked, the clip was up to just under 20 million views.
One thing driving those ridiculous numbers was Miley's promise to reveal the track list of her upcoming album Bangerz if her fans "wrecked" the record. She kept her promise , and the track listing confirms that she has indeed, as was rumored, collaborated with Britney Spears on the disc. From what we can tell from Miley's Twitter shorthand, the track they did together is called "SMS (Bangerz)." Other guests on the disc include rappers Big Sean , Future , Nelly and French Montana .
Bangerz is out October 4. Here's the full track listing:
"Adore You"
"We Can't Stop"
"SMS (BANGERZ)" (feat. Britney Spears)
"4x4" (feat. Nelly)
"My Darlin'" (feat. Future)
"Wrecking Ball"
"Love Money Party" (feat. Big Sean)
"#GETITRIGHT"
"Drive"
"FU" (feat. French Montana)
"Do My Thang"
"Maybe You're Right"
"Someone Else"
Copyright 2013 ABC News Radio