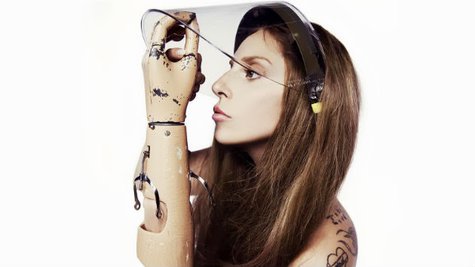 You may recall that after Lady Gaga underwent surgery to repair a tear in her hip, she was photographed sitting in what was described in reports as a 24-karat-gold wheelchair. To hear her explain it, her fancy ride was her way of reassuring her fans that she was doing OK.
In an interview with Britain's The Guardian , Gaga says she would've kept the surgery a secret had she been able to have it and still complete her Born This Way Ball Tour. Instead, she was forced to cancel the remainder of her gigs in February before undergoing the procedure soon afterward.
Gaga says she was wheelchair-bound even before she went under the knife, and hid that fact from her fans. She continues, "I know everyone was thinking I was trying to be a bit silly with my gold wheelchair but I was really trying to keep a bit of strength for my fans because it really upset them and scared them."
During her conversation with The Guardian , Gaga also deflects some of the criticism she's heard regarding her and her music. For example, she dismisses the notion that her latest single, "Applause," refers specifically to her wanting to be adored by her fans.
She explains, "I want you to feel that way about yourself, that's why I wrote the song. I want you to wake up in the morning and say: 'I live for your applause, look at me today, I'm having a great day, I'm going to work and I'm going to have a fantastic lunch with my friends.' But it's not to be taken quite as seriously and as literally as people make it to be, which is why in the verses I'm sort of making fun of what people think about fame."
Gaga believes there are people out there who take a "sense of pleasure" in trying to tear her down. She says, "It's almost entertainment for people to poke fun at Lady Gaga, but at the very same time they have no idea the album I've made. They have no idea what I put into this, they have no idea the work that I've put behind my performances and what I do."
Having said all that, Gaga insists that her detractors don't bother her.
Copyright 2013 ABC News Radio