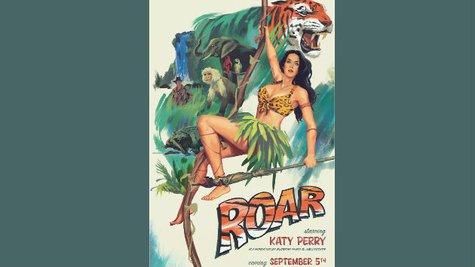 Katy Perry is the queen of the jungle in her visually-stunning video for "Roar," which debuted Thursday afternoon.
The clip begins with Katy emerging from a plane wreck in a jungle alongside a self-absorbed guy dressed like Indiana Jones. He's more preoccupied with taking selfies than protecting Katy. He's eventually attacked by a tiger, leaving Katy to fend for herself.
Katy adapts quickly and befriends the wildlife she encounters -- she gives a banana to a monkey, brushes an alligator's teeth and showers with the help of an elephant that sprays water on her using its trunk.
As you'd expect, there's a lot of tiger imagery in the video. At one point, she's confronted by an angry tiger, but she stands her ground and tames it with a roar. The tiger actually wears a name tag that reads "Kitty Purry," in honor of Katy's real-life cat of the same name.
The video is animated in certain spots, giving it a storybook feel.
"Roar" is the first single off Katy's new album, Prism , due out October 22.
Copyright 2013 ABC News Radio