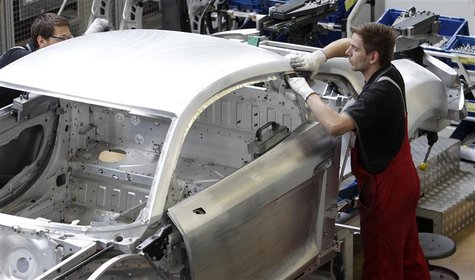 By Sarah Marsh
BERLIN (Reuters) - German industrial orders fell more than expected in July but a sharp upward revision for the previous month suggested the industrial sector in Europe's largest economy has extended its recovery into the third quarter.
A plunge in euro zone orders for capital goods drove a 2.7 percent drop in industry orders in July, seasonally adjusted data from the Economy Ministry showed on Thursday, missing the consensus forecast in a Reuters poll for a 1 percent fall.
But the reading for June was revised up to a 5.0 percent surge, the sharpest rise in more than two and a half years, from a previously reported 3.8 percent.
The ministry said bulk orders were slightly below average in July. Industry intake remained overall on a moderate upward path, rising 3.3 percent over June and July compared with the previous two months, it added.
"At first, the data appears to be disappointing but this is quickly relativized by the upwards correction of the reading for the previous month," said Rainer Sartoris at HSBC Trinkaus. "The data are skewed by the (Paris) air show (in June). Overall orders are stabilizing as the two-month average shows.
"The figures are therefore not so bad. On the contrary they confirm that the German industry is on the path to recovery."
A bastion of strength in the early stages of the euro zone's debt crisis, the German economy only narrowly avoided recession at the start of the year as a worsening global outlook diminished appetite for its products and willingness to invest.
But the economy grew at its strongest rate in more than a year in the second quarter. Recent data has provided further evidence that it is bouncing back from its brief slowdown.
A survey released on Wednesday showed the private sector expanded at the fastest pace in seven months in August thanks to growing new business.
Thursday's data showed domestic orders fell 0.3 percent in July and bookings from abroad slid even more, by 4.5 percent, driven by a 7.5 percent drop in orders from the euro zone. In particular, orders from the currency bloc for German capital goods fell 11.7 percent.
Two-month averages, however, showed a 2.4 percent rise in domestic orders and a 3.9 percent gain in foreign intake driven by a 4.2 percent jump in euro zone orders.
"Domestic demand is springing back and the export sector remains on track for continuing good growth," said David Brown at New View Economics. "The economy is coming back onto its long-term output growth potential."
Separately, the Ifo think-tank told Reuters on Thursday that Germany's world-beating current account surplus was likely to hit a new record high this year.
(Additional Reporting by Annika Breidthardt and Rene Wagner; Editing by John Stonestreet)