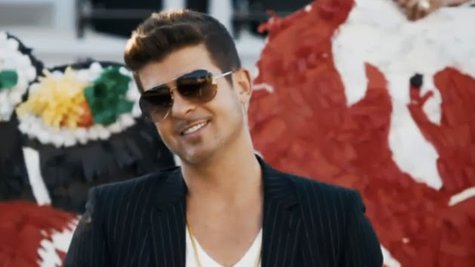 Robin Thicke spent the summer dancing across your computer screen, surrounded by half-naked women in the video for "Blurred Lines." But he says in real life, his first encounter with a naked woman came early -- courtesy of his famous dad, actor, songwriter and TV host Alan Thicke .
In the November issue of Elle magazine , Robin recalls that after his parents divorced, his dad was quite the ladies man, and he got the unexpected benefits. "My dad was single my whole pubescent period. He had Ms. Alabama, Ms. Dominican Republic -- every week. I was like, 'Dang, Pops!,'" Robin laughs. "He had an indoor Jacuzzi, and he frequented it. The first time I saw a naked woman was when I went to take a shower one morning before school. I was like, 'Who is this girl in my shower?'"
Naked girls in the shower aside, Robin said that he also lusted after women he saw on MTV. His first musical crush, he says, was Janet Jackson . "The video for 'That's the Way Love Goes,' my friends and I would watch that and be like, 'Whoa!'" Robin tells Elle . "And En Vogue ! One of the girls looks just like my wife."
And speaking of the wife, actress Paula Patton , it just wouldn't be a Robin Thicke interview if he didn't discuss their sex life and the size of his manhood.
Asked how he and Patton, who he's been with since he was 14, keep the "spice" in their marriage, Robin tells Elle , "The spice is not our problem. We're over-spiced. We could probably take a few spices off the shelf." When asked if the couple listens to Robin's music in the bedroom, he admits, "Yes. In fact, she likes to do it more than ever now. Sometimes she'll even play groupie for me."
Of course, that doesn't mean that there isn't trouble in paradise occasionally. "Oh yeah! Lock up the golf clubs," Robin tells Elle when asked if he and Patton ever fight. "If you don't fight, then you don't care. If you're not fighting for the relationship, you need to move on."
And what do they fight about? "There are so many little things you can fight about when you're in love," he says. "I've got a whole bunch of employees. I can't bring my emotions around my work. You bring it home. Sometimes you take it out on the person you love the most. And then you just go, 'I'm so sorry. What was I thinking. Let's just watch Ron Burgundy again.'"
As for the manhood question, which arises from the fact that Robin has boasted in his songs and videos about being well-endowed, the singer will only say, "Listen, compared to my [three-year-old] son, I'm packing. If I'm next to LeBron James ? It's probably not quite as impressive."
Copyright 2013 ABC News Radio