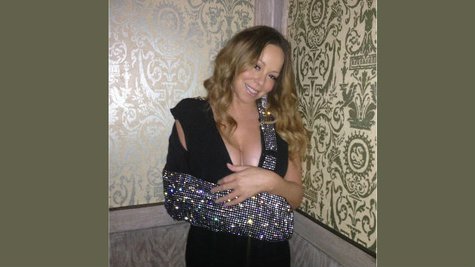 Mariah Carey used to say that giving birth to her twins Monroe and Moroccan was the hardest thing she's ever been through, but the shoulder injury she suffered over the summer, which she still isn't completely healed from, is giving that experience a run for its money.
Speaking to E! , Mariah says, "I feel like I have suffered the toughest experience of my life about several things. One was having twins and anybody who's ever had multiples will know it is one of the most difficult experiences ever...But yeah, breaking my rib was not festive. Dislocating my shoulder was not a good thing, either."
"It was tough...I'm like 95 percent healed, but we're good, we're getting there," she adds.
Meanwhile, Mariah is gearing up for the release of her new single "The Art of Getting Go," which will premiere on Facebook on November 11. To whet fans' appetite, Mariah has posted on Facebook video footage from the recording sessions for the song .
"I guess there's a lot of curiosity about the title 'The Art of Letting Go,'" Mariah says in the black-and-white clip. "Music has saved my life, and there's certain things that I still can't let go of even if I try so hard, I still can't let go of them and I know there's other people in the world that feel the same way."
She adds, ""If there's just one person that I help get through a situation with this song, then that makes my life and that makes me know that I can get through pretty much anything."
Copyright 2013 ABC News Radio