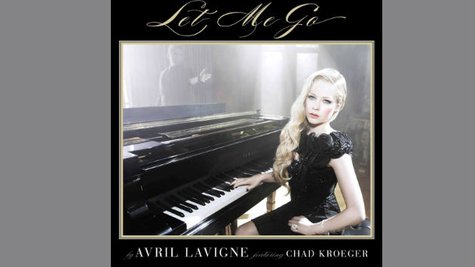 Avril Lavigne first met her now-husband, Chad Kroeger of Nickelback , when they got together back in 2012 to write songs for her upcoming album. Now, the two have released their first-ever duet, "Let Me Go," and an accompanying video.
"Let Me Go" is one of the many tracks that Avril and Chad co-wrote for her self-titled album, which is due next month. And the singer says the reason she and her hubby make such a good songwriting team is, surprisingly, the fact that they don't really see things the same way.
"We both have different views and different styles," she tells ABC News Radio. "And I'm a girl and he's a guy, so we have different ways of expressing ourselves. So, together, because we're so different we're able to toss a lot of different ideas back and forth with each other, try new things, say new things, and experiment." It also helps, says Avril, that she and Chad both play guitar, piano and drums, and are able to work out their musical ideas in the studio on the spot.
"He's a really good songwriter and he's really quick," Avril adds of her hubby, who she married on July 1, their one-year anniversary as a couple. "And I know what I want, what I'm going for, so I lead with what it is I want to go with, and he supports it and helps me come up with ideas, and it works!"
Avril's self-titled album comes out November 5. If you pre-order it from her online store , you can buy special bundles that include the disc, a poster and -- best of all -- a stuffed bearshark. The bearshark, half-bear, half-shark, is a fearsome, yet fictional, creature that Avril battled in her crazy video for her single "Rock N Roll."
Copyright 2013 ABC News Radio