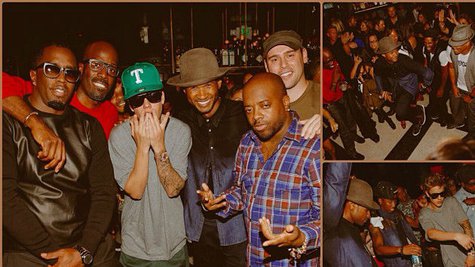 You only turn 35 once, right? Usher decided to celebrate his 35th birthday in style with his famous friends inside Bootsy Bellows in Los Angeles on Monday night.
According to People , the R&B singer dressed casual, donning camouflage sneakers and a Gucci fedora, when arrived at the surprise bash around 11 p.m. and then partied all night alongside Diddy and his girlfriend, Cassie , as well as Miguel , Jermaine Dupri , T.I. , Justin Bieber and even Sugar Ray Leonard , who Usher portrays in the legendary boxer's upcoming biopic, Hands of Stone .
Ashley Benson , The Voice judge Blake Shelton , and David Arquette also made an appearance for the "S&M Cirque du Soleil"-themed event, which included whips, chains and girls dancing in plastic balls.
"Usher was on the dance floor almost all night. He shared the floor with Diddy and Jermaine, who also danced almost all night long," a source tells People . "Even David Arquette showed off his break-dancing skills. ...There was a lot of love there. Everybody was so happy. There were so many celebratory hugs. It was such a fun night."

Usher later posted several pictures from the night, including a shot of his boxing-themed birthday cake and of course, the singer dancing in the middle of the dance floor.
Copyright 2013 ABC News Radio