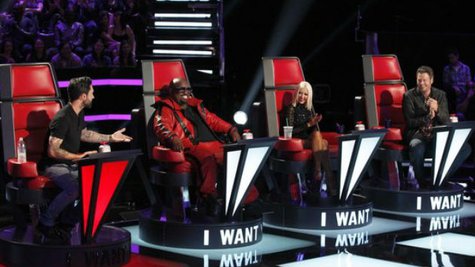 The battle rounds on NBC's The Voice resumed Tuesday night, with three more sets of teammates entering the spotlight.
Once again, the coaches and the special guest mentors helped tutor the artists in rehearsals. Adam Levine was joined by OneRepublic 's Ryan Tedder ; Blake Shelton teamed with Cher ; Christina Aguilera invited Ed Sheeran ; and Cee Lo Green had R&B star Miguel by his side.
Here's a rundown of what happened on Tuesday's one-hour episode:

Team Christina's Jacob Poole and Matthew Schuler starred in the first battle round, performing a duet of the Fall Out Boy hit "My Songs Know What You Did in the Dark (Light Em Up)." Adam complimented the performance by calling it a musical "a**-whooping." Christina marveled at the consistency of both artists when hitting the high notes in the song. She declared Matthew to be the winner of the battle round, and none of the other coaches opted to steal Jacob.

Kat Robichaud and R. Anthony of Team Cee Lo were assigned "I Don't Want to Miss a Thing," by Aerosmith . Blake said Kat appeared "pumped" on stage, and thought she was the better artist. Christina compared her to a tiger. Kat advanced, and R. Anthony was eliminated.
Blake pit Monika Leigh against Ray Boudreaux . They took turns on the Grand Funk Railroad song "Some Kind of Wonderful." Adam said the sky's the limit for Ray. Blake liked the "freedom" that Monika expressed, but also enjoyed Ray's range. Ray triumphed over Monika, who was stolen by Cee Lo.
The show also quickly recapped three other battles:
-- Team Cee Lo's Cole Vosbury defeated Lupe Carroll .

-- E.G. Daily of Team Blake moved on after battling Sam Cerniglia .
-- Adam chose Ashley DuBose over Justin Blake .
The battle rounds roll on next Monday night on NBC.
Copyright 2013 ABC News Radio