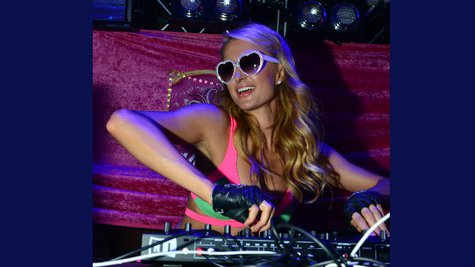 It wasn't that long ago that Paris Hilton was making headlines -- both good and bad -- on a daily basis. But after some time out of the spotlight and the scandal sheets, the heiress and entrepreneur has now decided to turn her focus to music: she's back with a new single -- "Good Time" -- plus an upcoming album, and an unexpected career as a world-class DJ.
"I've just been staying out of trouble and really focusing on my business. That's all I care about," Paris tells ABC News Radio, explaining her absence from our daily gossip pages. "And I've been in different countries every day, and I've created such a huge brand and I'm so proud of it."
She's not kidding: at last count, she had 17 different product lines, and 50 Paris Hilton stores around the world. But the star, who last released music back in 2006, says that it's something she always wanted to return to. She recently signed a deal with Cash Money Records, her friend Lil Wayne 's label, and her album is due in early 2014.
"I love music. I love to sing. It's something I really enjoy doing," she explains. "My fans have been begging for songs for so long." As for "Good Time," the collaboration with Wayne that's the lead single from her upcoming album, Paris says, "Everyone loves it....everyone's thinking it's such a fun song...I feel so proud and happy."
"Good Time" is strongly influenced by the EDM, or electronic dance music, sound, and that's no surprise, since Paris has been immersed in that world for the past couple of years. She's been working as a top DJ on the Spanish island of Ibiza, the world's party capital, keeping crowds of up to 10,000 people per night dancing 'til all hours of the morning.
"I've....been raving since I'm 15 years old so I've been a fan of this kind of music for so long," Paris tells ABC News Radio. "It's awesome that it's so popular now and I was really inspired, just by being in Ibiza every summer...that music just brings such an incredible energy and that's what I wanted to do with this record."
As for how , exactly, Paris ended up being a top DJ, well, she's been working on it for the better part of a decade.
"My friend DJ AM taught me over ten years ago how to do it," Paris says, referring to the late DJ, musician and producer, who died in 2009. "And I just loved it...then the past two years I got offered to do a huge festival and performing for 50,000 people, and I thought it would be a lot of fun so I agreed to it -- and then just started getting booked all around the world."
"I've never played the same set twice," she adds proudly. "I like to make kinda of a journey for everyone in the club. It has to be an experience....I always play different songs and make it new, 'cause the fans always come back every single night."
While Paris has been keeping out of trouble, a whole new crop of young starlets seem to have taken her place. Five or six years ago, she was the one being called a bad role model: now, it's Miley Cyrus . "I think she just doesn't care what anyone thinks," says Paris, who feels that Miley has been handling her recent controversies quite well. "I think she's living her life, she's having fun and she's unapologetic," adds Paris. "She just is having a good time...I think there's nothing wrong with that. She's an artist. She's expressing herself."
So what about Paris' own personal life? She's been engaged a few times, but never married. While many of her old friends, like Nicole Richie and Kim Kardashian, are settled down with babies, Paris tells ABC News Radio that that's not a lifestyle choice for her right now.
"My parents are really proud of me, and they can see that I'm a businesswoman," she says. "I just feel like, with traveling and all my work, that I couldn't be a mom right now. And I'm not ready for it. In a couple of years, maybe. I would love to have a family one day. I'm just not in the time right now."
Copyright 2013 ABC News Radio