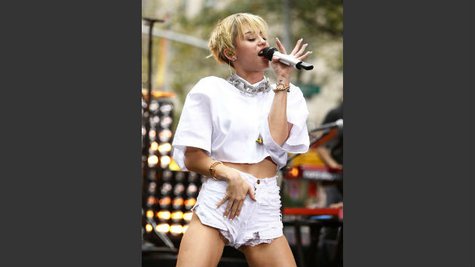 We all know that Miley Cyrus doesn't care who sees her nearly naked, but reportedly, viewers of NBC's Today show were almost treated to an unwanted view of her naughty bits during her performance on Monday.
According to the New York Daily News , a fan in the audience for Miley's performance noticed that her white, very short shorts were exposing a little too much of her nether region. The producers reportedly had to scramble to post some graphics onscreen to cover up her pelvic region. One eyewitness tells the paper that Miley's shorts continued to ride up, but she didn't seem to care, and apparently neither did her mom, Tish , who was in the audience.
Miley's hosting a party Tuesday night at a New York City club Finale to mark the release of her new album, Bangerz.
Copyright 2013 ABC News Radio