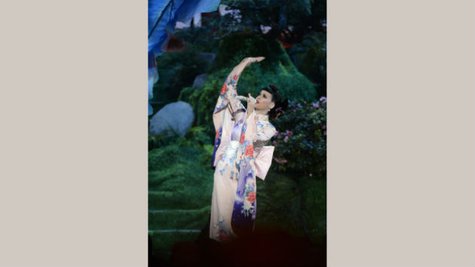 When Katy Perry decided to stage a Japanese-style show-stopper of a number for the opening of the American Music Awards on Sunday night, she wasn't doing it to "appropriate Japanese culture," "inadvertently glorify the oppression of Asian women" or to be "racist" -- several things that she has been accused of since the show aired. She just really, really likes Japan.
At least, that's what Katy's stylist, Johnny Wujek , tells E! Online, explaining why the singer chose to dress like a geisha for her performance of "Unconditionally." "The people are so kind, there's so much there visually," Wujek tells E! of his and Katy's love of Japan. "Just walking around [in Japan], you feel something. We wanted to try and encompass that in the performance somehow, almost a tribute."
Indeed, over the years, Katy has often tweeted about how much she loves visiting Japan to perform or do promotion.
Cosmopolitan magazine also took the number to task because Katy's dress appeared to be a mishmash of both Chinese and Japanese styles, but Wujek said that was intentional. "All of the dancers wore original geisha [dresses], and Katy's version was a little more modern," he said. "For her we took a stunning real kimono and reworked it more into a gown."
Copyright 2013 ABC News Radio