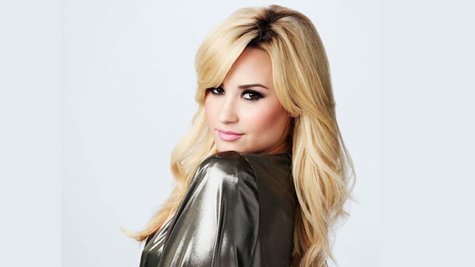 Demi Lovato will not have the day off on Thanksgiving. She will be on the set of The X Factor on Thursday night for a live results show. She blames X Factor creator and fellow judge Simon Cowell for scheduling the program on a holiday.
Appearing on ABC's Jimmy Kimmel Live! on Monday night, Demi joked, "I think that Simon Cowell, because he's British, he wants all of us to suffer, working on one of the greatest holidays of the year." She then pretended to be Simon, without the British accent, and said, "Ha ha, it's not a holiday for me!" Demi immediately laughed and apologized for her poor impression.
Demi also touched upon the child Simon's expecting with his girlfriend, saying that the pregnancy has made him "boring." She explained, "He's responsible, he's an adult now....He's acting his age and it's just, like, OK."
Demi's had plenty of exposure on ABC lately: she guest co-hosted The View at Disneyland last week. The former Disney actress revealed to Kimmel her first-ever visit to the Anaheim, California, theme park didn't come until she was 14 years old because she "could never afford it." Kimmel mockingly felt bad for Demi and joked, "Are you in therapy right now? We should really talk this out."
Demi shot back, "Do you realize who you're talking to? I'm constantly in therapy." Demi spent time in rehab a few years ago to receive therapy for anorexia, bulimia and cutting. She's also battled bipolar disorder.
You can catch Demi on The X Factor this Thursday night at 8 p.m. Eastern time on Fox.
Copyright 2013 ABC News Radio